Changelog · Mar 31, 2022
Focus on the work that matters: improved team ownership mapping for Jira issues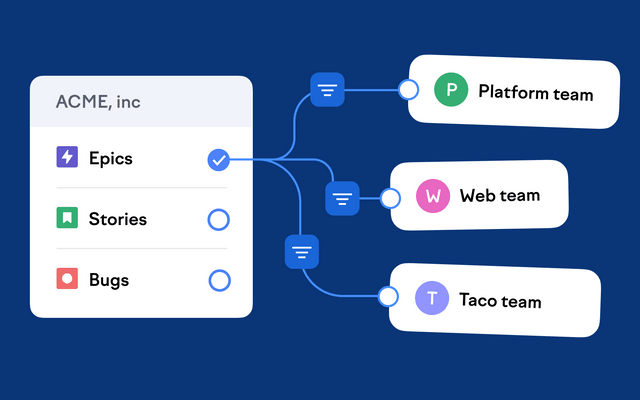 We improved how Jira issues are mapped into issue types in Swarmia and how issues are assigned to teams. The process is now simpler and more intuitive, with separate configurations for the issue types and team ownership mapping. It's also more flexible, supporting more filtering options for the team ownership. This allows you to adapt Swarmia to just about any Jira setup — we've seen a few, and no two are exactly the same.
Less repetition — define issue types on the organization-level, instead of doing it separately for each team (e.g., "count as Stories any issues that are a Story or Improvement").
Quick team-level configuration — choose which issues your team is interested in (e.g., "issues in project X or any issue with label Y belong to team Z").
Smarter defaults — if your organization has newly signed up to Swarmia and you haven't customized your issue types on Jira, you don't have to do any issue type setup.
Check out our new guide to get more out of Work Log
Work Log is a powerful tool for visualizing the various activities of your team, but it can take a while to learn its full potential. We've collected some healthy and unhealthy patterns and made them available while you're browsing your data. You'll be able to open the new guide from the info button at the top right corner of Work Log.
Polished user experience for GitHub Enterprise Server
We've recently made investments to bring the GitHub Enterprise Server experience to full parity with cloud-based GitHub setups. Contact us to learn more about our enterprise offering.
Other improvements
The Pull Requests view now displays separate sections for merged and closed pull requests, making it easier to analyze abandoned work and find pull requests that you've merged but forgot to link to an issue.
We recently updated the default time span of Work Log to two weeks. You can now navigate this new view one week at a time, allowing you to investigate any two-week period.
The "Link pull requests to issues" Working Agreement now only tracks merged PRs, so that work that's still in progress isn't flagged as an exception.
We improved the logic for sending Issue summaries to avoid sending Slack updates about uninteresting status changes.
Login failures caused by GitHub errors now clearly tell the user what happened.