Changelog · Jan 13, 2022
Work Log by investment category
Swarmia's investment categories are perfect for understanding where your team's time goes. Automated filters allow mapping all work to custom categories so you can get accurate reports on how the engineering teams' time is spent between roadmap items, firefighting, chores, and other types of work.
Work Log by investment category takes it to a whole new level. It shows all work by investment category — up to individual commits — in a calendar view. Use it to get insight into how daily decisions affect the investment distribution.
When do ad-hoc projects interrupt our focus? Do teams tend to focus on bug fixing at the end of the sprint? What technical debt issues got resolved this week? These are just some of the questions you can now answer.
New code insights and metrics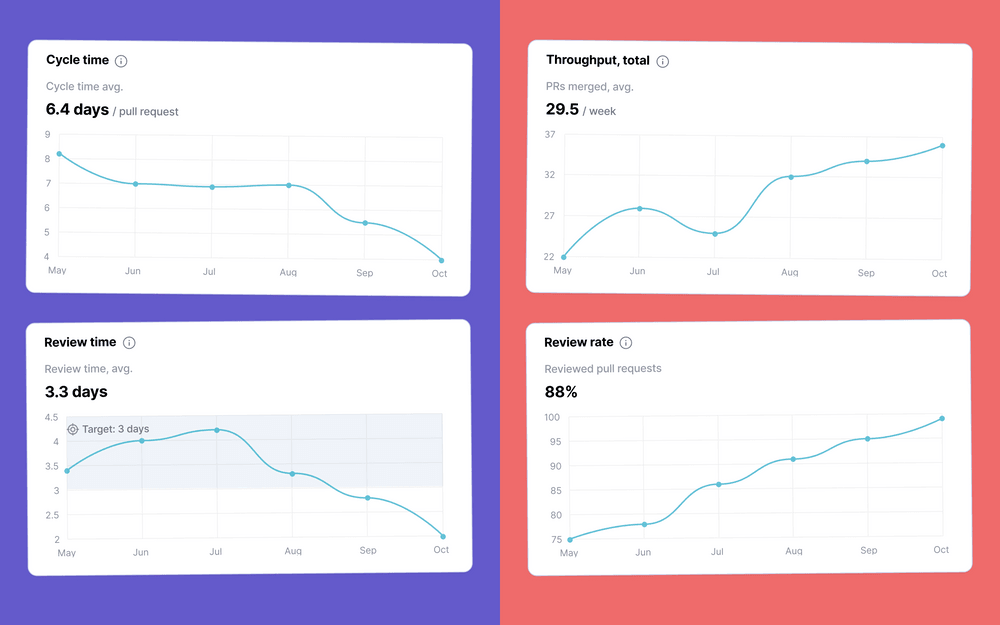 We've added a new code overview section to Insights, where it's easy to follow how your key metrics evolve week over week. Cycle time and Review insights got dedicated pages to help drill down to the data behind the aggregates.
There's also a new Review rate chart in Insights. It shows how many pull requests got approved before merging. Making sure all code gets reviewed improves code quality. You'll want to take action if the review rate falls under 70-80% of all work.
No more noise from bots
Teams love Swarmia's Slack notifications because they help them stay focused. However, review request notifications from bots had been contributing to unnecessary noise in team channels.
We won't send notifications about bots' review requests from now on. You can still see their review requests in Swarmia. Manage bots under Settings → Contributors.