Changelog · Aug 31, 2022
Create and manage teams in Swarmia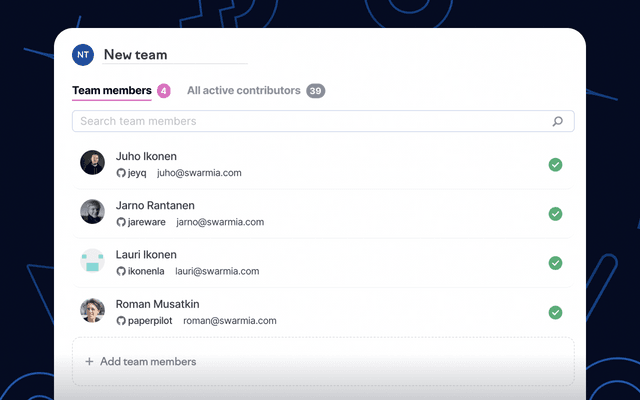 At Swarmia, we ensure your insights accurately reflect your processes and organizational structure. With our advanced contributor management, it's already possible to bring team member accounts across tools like Slack, Jira, and GitHub into a single profile so that all contributions are attributed to the right people and teams.
We also automatically identify and merge duplicate accounts, and if a team member happens to commit code using a new email address, we'll suggest linking it to an existing account.
With our latest update, in addition to importing teams from GitHub, you can also create and manage teams in Swarmia. Now you have more flexibility in managing team data without making changes to your GitHub organization.
Navigate to team settings to create and manage teams.
More updates
Deployment insights: now you can customize your deployment insights by selecting a deploy branch for each repository.
Change failure insights: we received reports of incorrect data being queried for some accounts, which we've fixed. Now the data is also grouped by day, helping to spot daily patterns (e.g., whether most failures occur on Friday).