Changelog · Oct 25, 2022
Better ways to manage teams in Swarmia and GitHub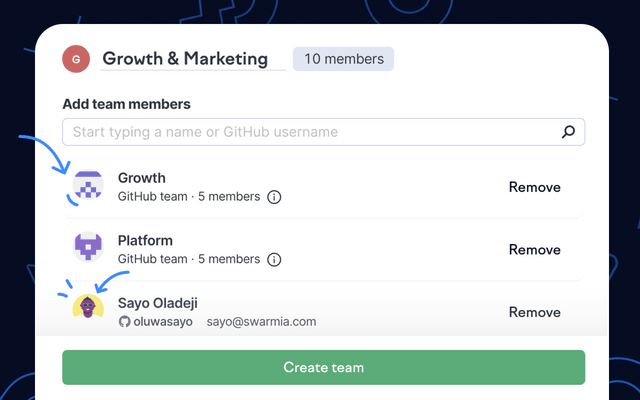 One of our product principles acknowledges that every team is different. We haven't seen two software teams working the same way, even within the same organization. So we built Swarmia to adapt to the routines and processes of each team — no matter how they use Jira, plan work or collaborate — to create a smooth user experience.
Managing teams in Swarmia just got easier. Previously, if you used GitHub teams, these teams were created in Swarmia automatically. Now, you're in control: you can choose to base team membership on GitHub teams, add team members one by one, or do a combination of both.
Here's how it works:
Create a new team in Swarmia
Add GitHub users individually or add entire GitHub teams to the team
The GitHub teams you use will automatically stay in sync — so if team members change in GitHub, the changes will automatically be reflected in your Swarmia teams.
You can add multiple GitHub teams and users to each team in Swarmia.
We're eager to hear your feedback about this change. Drop us a line at hello@swarmia.com.
More improvements
Configuring investment categories is now easier. You can review all uncategorized work in Settings to create better auto-categorization filters.
Faster team onboarding. When you connect Jira to Swarmia, we now suggest to auto-assign Jira projects to teams for an even smoother onboarding experience.
Better Jira custom field support. We added support for two new Jira fields: Advanced Roadmap teams, and Components. You can already use these filters in team ownership and investment category settings.
Ongoing performance improvements. As we onboard more customers, some teams might have experienced slowness in the app. We continue working on performance improvements across the app, especially for larger organizations.