Changelog · Feb 16, 2023
Simpler deployment insights and out-of-the-box DORA metrics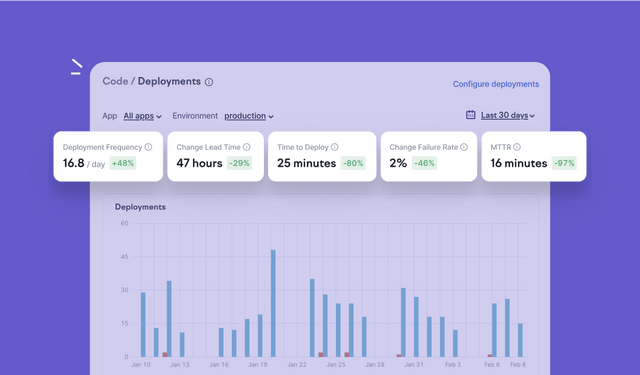 We've made multiple improvements to deployment insights within the past few months. Here's a summary of the changes.
We've made analyzing deployments easier by bringing them into a single view. You can see all four DORA metrics in one place and drill down to individual applications and deployments.
We've also simplified the configuration and added support for multiple data sources. Getting started with deployment insights only requires a few clicks, and you can easily switch between different data sources.
Manually tracking change failures takes effort, which is why Swarmia can now automatically detect change failures from version rollbacks and pull request reverts. You can also automate additional change failure scenarios through the Deployments API.
More improvements
We've enabled automatic change-failure detection by default for applications using GitHub Check or PR merge data sources.
You can now include commit information in the Deployments API payload.
What's next for deployment insights?
We'll add support for GitHub Deployments in the coming weeks. This will make tracking applications with multiple environments even easier.
We'd love your feedback — if there's something we could improve, drop us a line at hello@swarmia.com.