Changelog · Dec 1, 2021
Actionable alerts on Working Agreements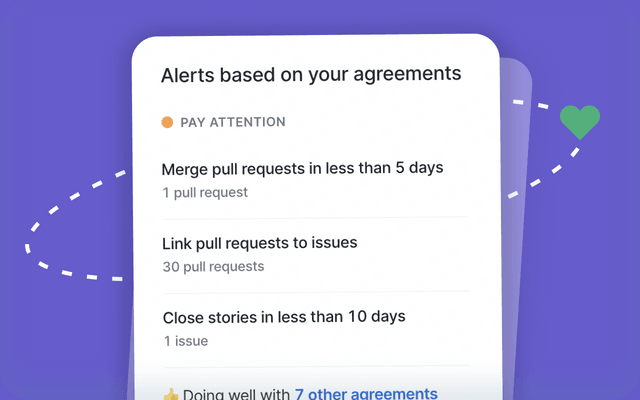 Our automated working agreements have taken huge leaps forward this year, with more teams getting aligned on how they write and review code, maintain code quality, plan work, and improve focus on work that matters.
The latest update brings working agreement insights to more places in the app, and improves our Slack digest to make it easier to focus on that one pressing issue the team agreed to improve on. With all the ongoing alerts to working agreements highlighted, it's easy to take action before a negative trend starts to form.
GitHub Enterprise is now supported
We've added GitHub Enterprise to the list of our supported tools. Earlier this fall, we also added support for Jira Server, increasing our coverage of on-premise integrations.
Swarmia is now more than ever equipped to serve larger engineering organizations, driving continuous improvement in software teams at scale. Contact us to learn more about our enterprise offering.
Performance improvements
In November, we onboarded more new organizations to Swarmia than ever before. As a result of the increased application loads, some users may have experienced slowness in the app. With the latest performance improvements to data queries, the app is now faster for all users.