Changelog · May 10, 2022
More ways to auto-categorize pull requests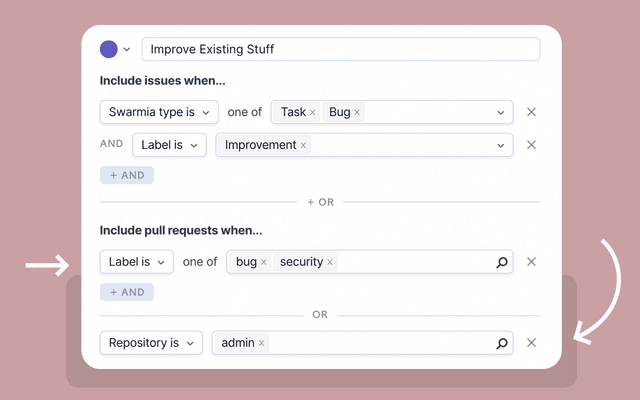 Swarmia's investment insights help engineering organizations balance focus across roadmap work, technical debt, fixing bugs, and other investment areas. You can set up flexible filters to auto-categorize work according to your organization's needs.
With the latest update, we introduce more ways to auto-categorize pull requests, adding filters by label, repository, branch name, title, and status to investment category configuration, increasing the accuracy of investment insights.
Auto-exclude pull requests from metrics and alerts
Continuing with the theme of improving insight relevance, you can now auto-exclude specific pull requests from metrics, as well as the daily digest, for the whole organization.
You may want to auto-exclude revert or release pull requests, or draft pull requests used for research projects. You can exclude contributions by pull requests status, branch name prefix, title prefix, or repository. You can also exclude pull requests manually from anywhere in the app.
Auto-exclude pull requests in Settings. Learn more in the Help center .
Combine data from multiple GitHub organizations in Swarmia
If you happen to work across multiple GitHub organizations, now you have more options for managing your data in Swarmia. With our latest update, you can choose to combine data from multiple organizations or use Swarmia for each organization separately.
Learn more in the Help center.