Changelog · Sep 28, 2022
Organization-level code insights are now available to everyone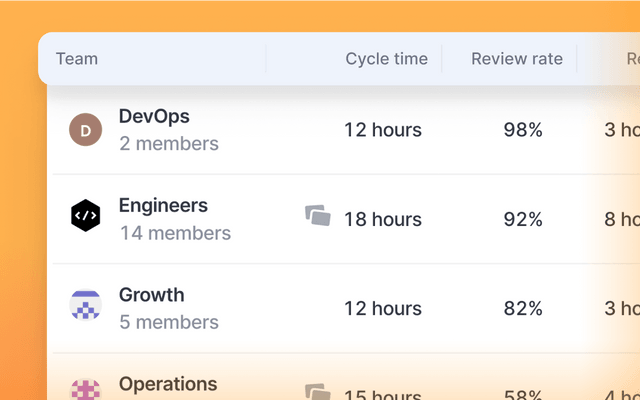 At Swarmia, we're building a product that enables organizations to have healthy conversations about their work and where they want to improve. In order to drive change, it is crucial to consider all levels of the organization — from one team to the company as a whole — and have a shared language for having team discussions, backed by data you can trust.
With engineering teams being Swarmia's core focus, we're proud of the data quality we've achieved for teams so far. In recent weeks, we've been doing the groundwork required to bring those insights to the next level (quite literally), enabling reliable, trustworthy insights across multiple teams and the whole engineering organization.
In the new organization-level code insights, you can see key metrics across multiple teams, including cycle time, review rate, review time, throughput — and more.
In the coming weeks, we plan to expand our support of the cross-team and organization-level features. As we do it, we take great care in surfacing data that enables a healthy culture of continuous improvement for everyone, from engineering leaders to individual developers.
More updates
Using Jira custom fields to assign issues to teams? Now you can use custom fields to define investment category filters and Jira settings in Swarmia.
When you send deployment data to Swarmia via the API, you can now provide an optional Description, which will be shown in the UI alongside other data
Finding the right Jira projects to connect to Swarmia is now easier. You can search for projects based on their name or Jira key in Settings.