Changelog · Mar 15, 2023
Make engineering work visible with Developer Overview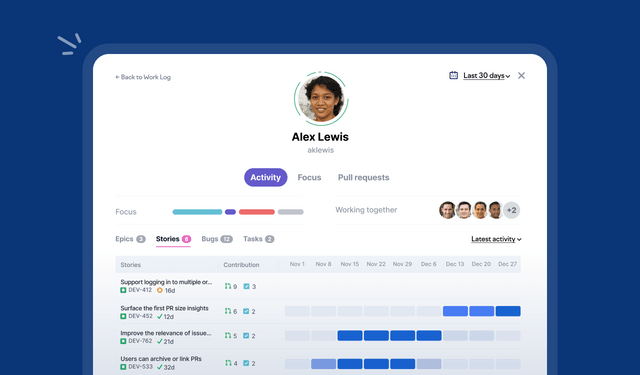 Visualizing engineering work with views like Work Log and Investment Distribution has helped hundreds of modern software teams significantly improve their focus and flow. Our new Developer Overview aims to do the same thing — but this time with an emphasis on the work of individual engineers.
Developer Overview makes it easy to see what each developer has worked on and helps facilitate discussions about their work. It allows developers and their managers to:
Make work visible. Identify who the developer has worked with recently, compare the ratio of own pull requests to reviewed pull requests, and navigate to past work items to analyze them in more detail.
Visualize activity patterns. Quickly see all the projects the developer has contributed to and spot systemic issues like too much work in progress or working alone on bigger issues.
Analyze focus. Assess whether the developer has been able to focus on the right things and maximize their learning and impact.
The benefits of Developer Overview
Developer Overview is not a tool for stack ranking individuals or reducing them into a single number. In fact, the view is first and foremost a tool for developers to learn and grow in their career. With it, developers can:
Take initiative on their own learning and development
Easily reference what they worked on, and figure out who to ask for feedback
Analyze completed work and have better discussions with their peers and manager
Back up career development discussions with data
How to get started
Access the Developer Overview by clicking on your own or any other contributor's avatar anywhere in Swarmia. You can read more about the benefits and use cases of Developer Overview in our blog and the Help Center.
As always, if you have any feedback or improvement ideas, we're all ears. Simply get in touch with your CSM or fill out this quick feedback form.